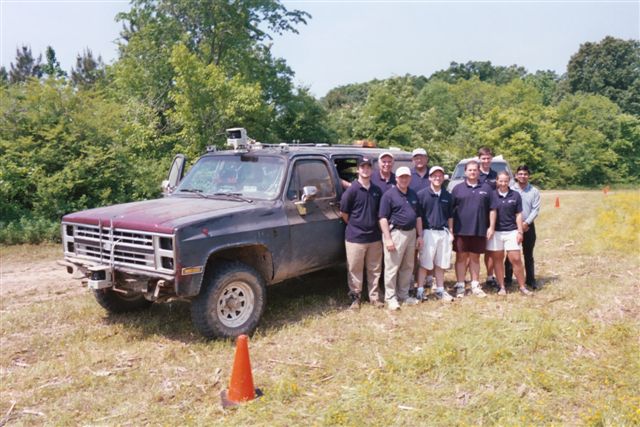 Grayson Randall
Grayson Randall is President and team leader of Insight Racing. He is responsible for the overall system design and architecture of our Grand Challenge entry. Grayson started the team in early 2003 in response to the initial DARPA Grand Challenge. Grayson is a senior software engineer at IBM. He has 24 years experience in systems design and architecture. At IBM, he has worked on projects involved with manufacturing automation, digital video processing, set top box designs, as well as network processors for high speed network communications. He has experience as lead designer and provided technical leadership for up to 40 programmers. He is currently involved in PowerPC processor development. Grayson's work includes 9 patents and several publications. Prior to IBM, Grayson had 5 years experience in the development of commercial and military flight simulators.

Grayson holds a BSAE from Parks College of St. Louis University. He is chairman of IEEE Robotics and Automation chapter for Eastern North Carolina. He also mentors a FIRST high school robotics team which won 1st place in the international competition last year as well as numerous other awards.

Walt Sliva
Walt Sliva holds Bachelor of Science degrees in both Mechanical and Electrical Engineering as well as an M.S. in Business Economics. His business experience includes over twenty years in the Automotive/Truck markets including off road vehicles with a Fortune 100 company with progressive responsibilities. He started as an R&D engineer, and progressed through a number of management roles culminating with being elected Corporate Vice President and General Manager of a $300 million division. After his retirement Walt has immersed himself in a number of volunteer activities including mentoring high school students in the FIRST Robotics program, serving on the Board of Directors of Life Experiences and presently an Adjunct Lecturer at North Carolina State University in the Electrical and Computer Engineering Department.

Kate Caldwell
Kate Caldwell is Secretary and Vice President of Insight Racing. She is also a member of the mechanical division, which is responsible for development and maintenance of all mechanical systems on the vehicle. She graduated summa cum laude with a BS in Mechanical Engineering from North Carolina State University in May, 2005. She began working towards a Masters in Mechanical Engineering at NCSU this fall.

Brendan Shanley
Brendan Shanley is the Treasurer of Insight Racing, as well as a member of the electrical team. He is responsible for power distribution throughout the vehicle's systems. Brendan will graduate in December 2005 with a BS in electrical engineering from NC State University. He hopes to enter the workforce in the beginning of 2006.

Brian Dean
Brian Dean joined Insight Racing in 2004 and is responsible for vehicle controls (including steering, throttle, and brake)electronics and sensors, emergency stop systems, remote control operations, and obstacle avoidance. Brian founded BDMICRO-LLC, a company that designs and manufactures high performance robot controllers and motion control components. Insight Racing made extensive use of BDMICRO-LLC products in the 2005 Grand Challenge. Brian earned a BS in Physics in 1989 and an MS in Computer Science in 1991 from West Virginia University and has over 15 years of professional software development experience.

Matt Rhinehart
Matt Rhinehart is a member of the Mechanical Team for Insight Racing. He is responsible for all welding and heavy machining required for the mechanical systems. Matt is currently finishing his Junior year in Aerospace Engineering at North Carolina State University. He enjoys anything relating to aircraft and was a NASA intern in the summer of 2004.

Steve Kuekes
Steve Kuekes holds a Bachelor of Science degree in Computer Science. Steve founded Tangram Enterprise Solutions, a computer software company, and helped grow it to a public company with over 100 employees and $30 million in revenue over 20 years before retiring in 2004. He architected and supervised the development of Tangram's two major software products that included over two million lines of code over 8 different computing system platforms including large mainframe computers, Unix mid-range, and Windows desktop systems. He served as the Chief Technical officer and was a member of the Board of Directors. In addition, He has been on the Strategic Advisory Board for the Department of Computer Science at North Carolina State University for the last six years.

Mike Randall
Michael Randall holds a Bachelor of Science degree in Computer Science and is a Software Engineer with EMC˛. At EMC˛, Michael specializes in Design Verification and Testing. His previous business experience includes 5 years of software development including entrepreneurial endeavors where he helped to co-found a wireless software company. He is also a founding member of Insight Technologies. He received an entrepreneurial award from the IEEE for these ventures. His experience includes all phases of software development and testing.

Amit Bhatia
Amit Bhatia is responsible for the Camera Vision processing for the Insight Racing team. He was part of the team for the Grand Challenge in 2005, and his primary role was to integrate stereo vision in the overall system. He is a Senior Engineer at Ericsson and has been associated with Information Technology in varied fields of Networking, ERP, and E-commerce technologies. He has been working in the image segmentation area of Vision processing on the Linux platform and also has interests in Pattern Recognition. He received his Bachelors in Electrical Engineering form IT-BHU, India in 1995 and Masters in Computer Science from NCSU in 2004. He is currently pursuing a PhD from NCSU.